Co-op and the Canadian Red Cross
Actions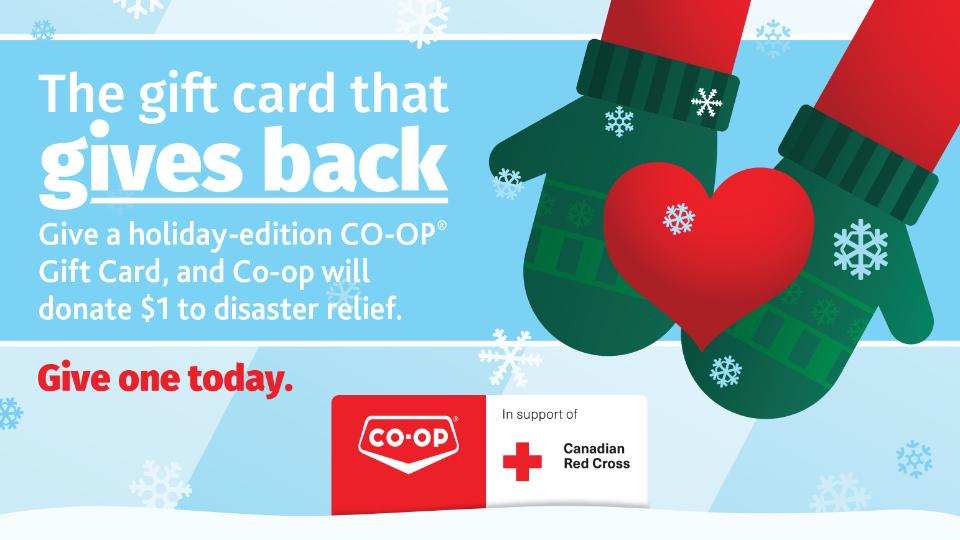 Co-op and the Canadian Red Cross
November 6, 2019
Co-op and the Canadian Red Cross, a partnership to be proud of. Co-op is a longtime partner of the Canadian Red Cross because of its commitment to helping Western Canadian communities in times of need.
The Co-op Give Card Campaign will be returning this year to support disaster relief in the communities where we live and work. From Nov 6th, 2019 to Dec 31st, 2019, any Co-op Gift Card purchased through our Gas Bars / Cstores, Food Store and our Home Centre, $1.00 per gift card sold will be donated to the Canadian Red Cross for disaster relief. Gift cards can be loaded to have a minimum value of $5.00 up to a maximum of $1000.00.
These gift cards works just like our regular gift cards. There are no extra costs to you, our valued customers. Let's help the Canadian Red Cross in this giving season. Please see instore for more details.
Discover more: